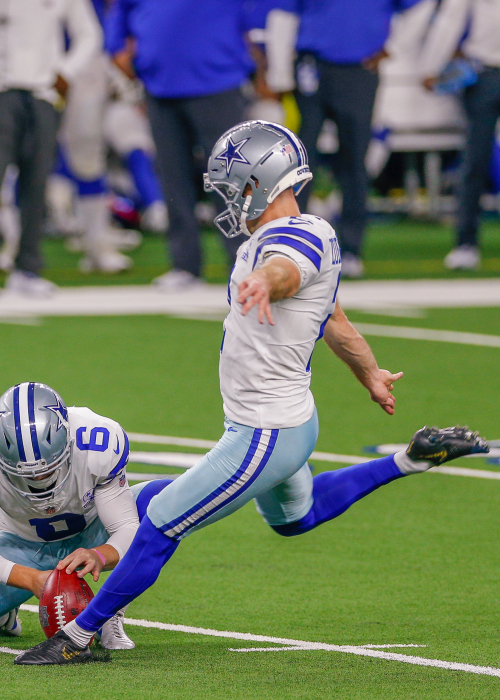 2020 Fantasy Outlook
Most kickers are lucky to have one nickname, but Greg the Leg, a.k.a. Legatron, actually has two. He earned that honor with a 60 percent conversion rate from 50-plus yards during his time with the Rams. The move from L.A. to Dallas attaches Zuerlein to a better offense, but it comes with the caveat of job competition in the form of Kai Forbath. Zuerlein, though, has the larger contract and the stronger leg.
Read Past Outlooks
$Signed a three-year, $7.5 million contract with the Cowboys in March of 2020.

ANALYSIS
Though Forbath performed very capably during his stint with Dallas last season, the Cowboys elected to stick with Zuerlein, whose strong leg led to some productive fantasy seasons during his eight-year tenure with the Rams. The 32-year-old will now be working behind a strong Dallas offense, a context that could help him engineer a bounce-back campaign. Zuerlein made 24 of his 33 field-goal attempts with Los Angeles in 2019, resulting in a career-low 72.7 percent conversion rate.
Read More News
NFL Stats
Fantasy Stats
Loading Fantasy/Red Zone Stats...
2019 NFL Game Log
Calculate Stats Over Time
Just click on any two dates.
Scoring
Standard
PPR
Half PPR
FanDuel
DraftKings
Yahoo DFS
2018 NFL Game Log
Calculate Stats Over Time
Just click on any two dates.
Scoring
Standard
PPR
Half PPR
FanDuel
DraftKings
Yahoo DFS
2017 NFL Game Log
Calculate Stats Over Time
Just click on any two dates.
Scoring
Standard
PPR
Half PPR
FanDuel
DraftKings
Yahoo DFS
2016 NFL Game Log
Calculate Stats Over Time
Just click on any two dates.
Scoring
Standard
PPR
Half PPR
FanDuel
DraftKings
Yahoo DFS
Recent RotoWire Articles Featuring Greg Zuerlein
Past Fantasy Outlooks
2019
2018
2017
2016
2015
2014
2013
2012
Greg the Leg led kickers in per-game fantasy scoring both of the last two seasons, converting 10 of 13 kicks from 50-plus yards. With the Rams retaining the core of their Super Bowl team, Zuerlein will see plenty of opportunities as long as he avoids the injuries that cost him five games last year and two the year before. His combination of leg strength and team context is unmatched.
Prior to suffering a herniated disc, Zuerlein was headed for the single-season kicker points record, both in real-life and fantasy terms. He's called "Greg the Leg" for good reason, but his career conversion rate on field goals is still only 82.9 percent after the near-perfect season. Zuerlein made a recovery from his back injury for the start of training camp, but he's likely to experience accuracy regression, and the Rams should turn some of those FGs into TDs.
Zuerlein was one of four kickers to play all 16 games and not miss a PAT last year. Unfortunately, that was pretty much the only positive from his season, as his 22 field-goal attempts were the third fewest in the league and his 80 points were the fewest among kickers who played at least 11 games. He had 10 games with one or zero field-goal attempts, and he kicked more than two PATS just four times. The accuracy bounced back from his atrocious 66.7 percent rate in 2015, but it doesn't seem that Zuerlein will get enough opportunities to be a viable fantasy option.
The Rams' offense struggled greatly last season, and Zuerlein did nothing to help the cause, missing 10 of his 30 field-goal attempts, which tied for the worst conversion rate in the league. Known for his strong leg, six of Zuerlein's 10 misses last year came from at least 50 yards, while he's only hit 7 of 11 from between 40 and 50 in the last two years combined. The change to kicking outdoors in Los Angeles as opposed to the dome in St. Louis isn't going to be a benefit, though the weather shouldn't really be much of a concern. Ultimately, Zuerlein's growth will come from hitting more of his attempts, and with that hardly a guarantee after three consecutive declines, he's much closer to a dart throw than a sure thing.
Zuerlein kicked a career-high 92.9 percent in 2013, but he regressed last season closer to his rookie rate, finishing 26th in field-goal percentage. Part of that is due to attempting more long distance kicks last season, like he did as a rookie. In 2012, Greg the Leg was 7-of-13 from 50-plus yards, and last season he was 5-of-7. Sandwiched between is an odd 1-of-2 showing in 2013. Ultimately, he just didn't have enough scoring chances last season - St. Louis ranked 24th in red-zone drives with just 44 - as the offense was inconsistent after quarterback Sam Bradford was lost for the year in preseason. The Rams traded Bradford for Nick Foles this offseason, which should be an improvement over last year, at least.
The Rams didn't afford many opportunities for Zuerlein to show off his impressive leg strength with just two attempts from 50-plus yards last season after he led the league with 13 as a rookie, but the stark improvement in his accuracy rate helped compensate for the dropoff. Zuerlein's 92.9 percent mark from the field ranked fifth in the NFL, though he lagged much further behind the league leaders in both PATs and field goals made. The Rams didn't do much in the offseason to supplement their middling offense, so Zuerlein will probably need to notice an uptick in long-distance attempts while maintaining his gains in accuracy in order to pump up his fantasy value.
A virtual unknown rookie from a D-II college, Zuerlein quickly established himself by converting the first 15 kicks of his pro career, including booming missiles from 56, 58 and 60 yards to set a franchise record. Zuerlein faded down the stretch by missing eight of his final 18 field goals, but it should be noted six of those misses came from beyond 50 yards. Coming off a league-leading 13 attempts from 50-plus in 2012 and with a favorable schedule that grants him 12 games in domes this season, Zuerlein will be especially valuable in leagues that award bonuses for long field goals. Outside of distance leagues, though, unless the Rams offense affords him more scoring opporunties (26 PAT, 31 FGA), his value his limited.
A sixth-round draft choice out of Division II Missouri Western State, Zuerlein is in line to take over the kicking duties after the Rams released veteran Josh Brown. Although Zuerlein is under the radar even to the most avid college football fans, he was impressive in his final college season, nailing an NCAA-record 21 consecutive field goals, including nine from 50-plus yards. Zuerlein will be aided by playing nine of his games in domes, but any advantage that confers should be undermined by the inept Rams offense, which ranked last in the NFL in scoring in 2011.
More Fantasy News